Tommaso's baptism story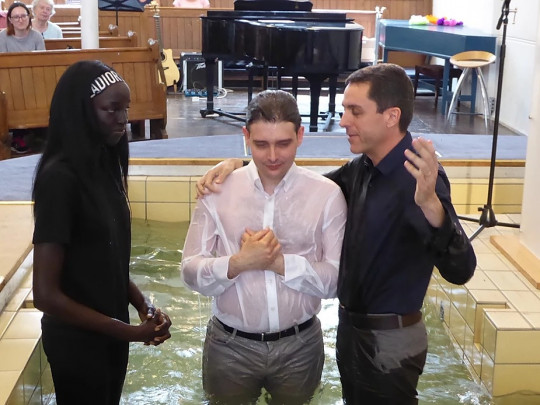 It was a privilege for us to baptise Tommaso this morning at Bloomsbury. Here is his story of why he came for baptism.
"As far as I know, the Bible has nothing to do with my parents' decision to call me Tommaso – the Italian form of Thomas – but my name turned out to be quite a fitting choice, considering my attitude towards faith until a few years ago. As the doubting apostle said, according to the Gospel of John, "unless I see the nail marks in his hands and put my finger where the nails were, and put my hand into his side, I will not believe."
I too chose not to believe, not because I was dead set against religion, or because I felt that science had all the answers I needed, but simply because I thought God was beyond me and my understanding. I grew up in a country in which faith is often presented as something transmitted, handed over from generation to generation, but my family's heritage had become increasingly secular and I was therefore not baptised as a child. Moreover, the way in which, in Italy, Catholicism has been historically entangled with political power and used to strengthen it made me quite suspicious. But, perhaps, the most important source of my agnosticism was another one. I saw faith as something outside us, something we can receive as a gift, something we can be taught about, and maybe, if we are well disposed and interested, something we can learn. It did not occur to me until quite recently that faith is within us from the very beginning, it is part of our human nature, and even if we can decide to cultivate it or not, to breed it or not, we simply cannot live without it.
In the Gospel of John, Thomas is told by Jesus to reach out his hand and put it into his side. For me, touching Jesus meant going through an extremely difficult period, for personal and professional reasons, during which, despite the pain and the sense of failure that gripped me, I experienced the love of God in ways that I never thought possible. Through the kindness, the compassion and the dedication of those who loved me, I managed to recover but, after recovering, I did not forget what happened to me, the mistakes that I made, the price that I had to pay for them, and the unyielding support that I received. And because I have not forgotten, I started attending this Church.
What I feel now is joy, a deep gratitude, and also a feeling of inner freedom that comes from the acknowledgement that only through Christ and His forgiveness I can be saved. And I am even more delighted because I am taking this step in this place, before you, by entering this community which, every time I come, makes me feel at home."
You can hear Tommaso's testimony, baptism, and the prayers said afterwards on our Soundcloud stream here https://soundcloud.com/bloomsbury-1/2018-06-10-tommaso-baptism