In this section...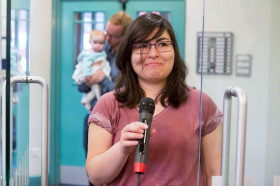 The Deacons
What is a deacon?
The word 'deacon' comes from the ancient Greek word for servant. They are the volunteer leaders within the church, for whom the church membership has voted. Deacons help with the running of the Sunday services through prayer, stewarding, and waiting on the congregation in communion and with the offering. They, alongside the Ministry Team and Officers, set vision and agendas for the church body as a whole, and act as managing trustees. They are an integral part of the spiritual leadership of the church.
Who are the deacons?
The elected officers of church are: Nigel Redford (Secretary), and Tim Clifford (Treasurer).
The elected deacons are:
Howard Brown

Udoka Emmanuel-Odiachi

Fifi Evelyn

Jean Harrison

Nyaueth Riam

Matthew Streeter

Jackie Somerville

.
In addition, we also have two life deacons, who although not acting as managing trustees are nonetheless well respected members of the community: Brian Bowers and Maurice Johns
​